So I have noticed a few things and I think the problem lies in when you click the TMunderground it goes straight to the movie site and studying how this is set up it clear the forum should be the forefront of the main site so instead of having people going to movie site, they would land at TMU home. Because if I m new user and all I see movie site then I think it just another video sharing site without a community, that's how new user would feel because they don't even know about the forums or the community. So I redesigned the site slightly to give it an easier approach
http://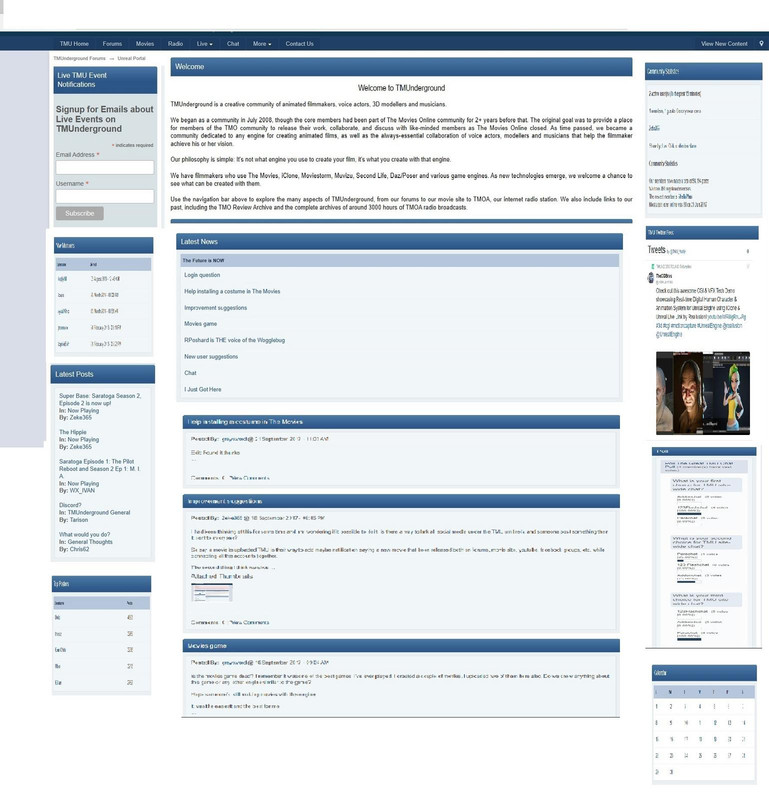 So you see you have easier access to sign up sheet and login sheet cause upfront and what the latest is going on, who the new users are and what the last post is which leads me to my next point is the forums in the latest news section has not been updated since 2017, so new people might think we have abandoned the site 2 years ago, so we need to fix it so it said 2019 stuff instead of 2017 stuff.
Now when people click on TMU site this should come up first not the movie site. Why you may ask that because this shows that we are creative creators and then they can check on the top and see or you can tell them that you can upload their creations to movie site for comments and feedback from the community. This way it will bring more traffic to your site without having sacrificed too much. But if it stands as if how will people know there a community here? when all they see is the movie site. The movie site should be second and TMU Home should the very first thing they see when they click this site this way you give a better first impression and who knows it might fix a lot of problems.
That and having a signup or login feature up on the top there helps new user sign up and makes it easier to understand. But I like to know your thoughts do you think this redesign is a good idea or should it stand as is? Let me know in the comments below.